Salman khan is a well known Hindi Film Star and a very versatile actor. He has been in the industry for the past 2 decades and is loved by one and all. He is 45 years and the first child of screen writer Salim and Salma Khan. He has two brothers, Arbaaz Khan and Sohail Khan, and two sisters, Alvira and Arpita. Salman was voted as the Sexiest Man Alive of 2010 by People magazine. Despite being romantically linked with several actresses, and having relationships with ex-girlfriends Aishwarya Rai, Somy Ali and Sangeeta Bijlani, Salman is frequently featured as Bollywood's most eligible bachelor. He had been dating model-turned-actress Katrina Kaif, but not much has been said about the supposed break-up.
He has some amazing films to his credit like 'Mein Ne Pyar Kiya' and 'No Entry' and 'Andaz Apna Apna', 'Dabangg' and so on. He is one of those actors who has a flare for comedy and should stick to entertainment than doing serious films which do not do well at the box office.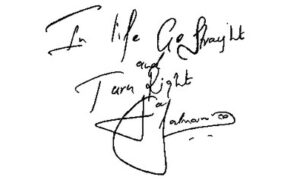 Handwriting Analysis of Salman Khan
Handwriting Analysis or Graphology, is the science involved in producing a personality profile of the writer by examining the characteristics, traits and strokes of an individual's handwriting. A trained graphologist can gather an astonishing amount of information about the writer just from analyzing their handwriting. Many things are revealed in your handwriting, past experiences, hidden talents, weakness and so on.
Salman's writing shows that he is a person who will evaluate fact s before taking any action on them. His decisions are taken by the head and even though he has emotions and will feel bad for other people, but won't be taken in by their talk. The final decision will rest on facts that he collects.
His writing shows lots of physical energy, a person like him has to put this energy to some use. For instance exercising or any physical activity would be very important for this person. His writing shows that he values his privacy and also a kind of frustration that is shown in the way he writes his 'y'. It is always better to complete the loop in the 'y' . Leaving the 'y' incomplete is a sign of frustration and thinking of past instances and also of immaturity.
We are lucky to have his handwriting along with his signature .If the signature is just like the person's normal handwriting it shows that the person is straightforward, down-to-earth and without any pretensions. If a person's handwriting is very big ,it means he is very confident , proud, likes to gain others attention. The two dots below any person's signature indicate that these people are considered to be romantic, can easily change their fiancées as if they change their clothes. They prefer beauty in other persons & they themselves try to look beautiful. They easily attract others.
His writing tells us that he has a very analytical mind likes to sift and way facts. He takes his own sweet time to take a decision and that might frustrate others, but eventually it might prove to be a right decision. Another thing that is seen in the writing is the 'd' in the word and, if you notice, it is much more rightward than any other letter in the writing. His erratic baseline indicates moodiness. These people laugh and cry easily, are temperamental and have ups and downs.
Well this is my analysis of Robinehood Salma Khan and I request you to give me your comments as to how you like the analysis. You may contact me on faridahbharmal@gmail.com for getting your writing analyzed along with Grapho tips.
To get your writing analyzed visit
http://worldofhandwriting.weebly.com/get-analyzed.html
I had a gentleman ask me a question on this topic which I would like to share with all my readers
"I have gone through your testimonials and it's awesome. People say the letter I also reveals more. Can you pl say something about Salman's letter I in his handwriting sample?"
ANSWER:Thanks for compliment regarding the website and blogs. The letter "I" is associated with your self image and also how you get along with your  parents.  Salman's "I" revels that he has a good self image regarding himself and  healthy relationship with both parents but feels more secure and close to  his mother. In addition his letter "I" is also showing that he is a tenacious person and likes to hold on to his own ideas and philosophies.  Nice question, thanks for asking. I will surely be sharing it with my  readers as well. > > Regards, > Farida H B