Handwriting analysis of Mr. Joseph Biden
Mr. Biden's writing was analyzed by my intern Hussaina Barudawala on August 26 on her Instagram page. She is a budding Graphologist and I feel young talent should be appreciated and promoted. She has also helped me compile the e-book on Meerakii Knowledge Fair. 
 Joe Biden briefly worked as an attorney before turning to politics. He is the president-elect of the United States. He also served as Barack Obama's vice president from 2008-2016. Do read and find out what kind of person Mr. Biden is from his Handwriting and Signature analysis.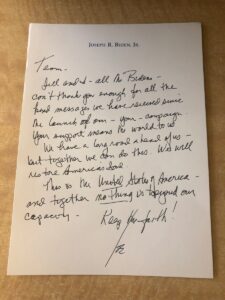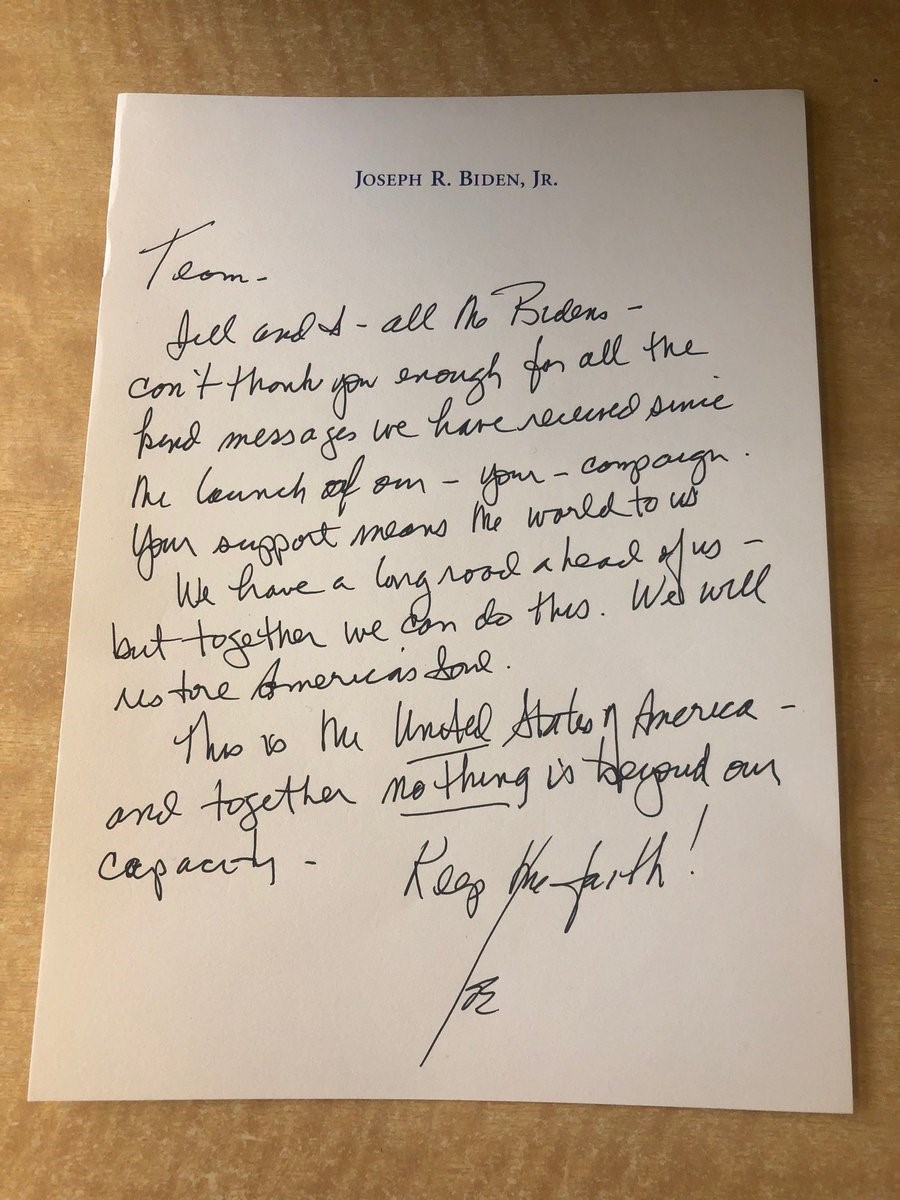 Mr. Biden has a buoyant spirit, excitable, and quickly stirred to action. An optimistic personality with a restless mind.
He has Strong decision-making ability his decisions will always bring him sure short success because he goes for tried and tested Solutions. Also, he is a quick and careful decision-maker.
He is a very ambitious and future-oriented individual. He sets goals that he is sure to achieve. Intelligent and very determined, have the ability to make the best use of his resources. He is also very flexible and Friendly People can easily connect with him and share their problems because he is quite Expressive with his emotions and ideas in front of others.
However he Takes criticism seriously too it rather dwells on it for too long and that could be huge energy bucked because the post of a President demands that you listen to people, however building resilience and not taking everything to heart will be of great help to him.
He also tends to hold on to an idea or thought and that could or could not be beneficial to him. We also see a Slight degree 5/6 of variation in line 6 your support means the world ……….are the people really supporting him? Will he be elected? If he doesn't win, what then ( maybe a long stream of thoughts were going on in his mind….)
Signature is a badge in the world and though. Mr. Biden has amazing confidence in himself, his signature has 2 variations and somewhere the same confidence that he exhibits in his personal life, He's unable to express when with people around. He does try though but there's an inner feeling that doesn't seem to leave him. We do hope he allows himself to believe in his belief and if voted restore back America's soul as a nation and move forward towards a better world.