Cursive writing and its importance(part 2) A few days back, I had written an article on Cursive writing and its importance, also mentioning that the state of Indiana had stopped teaching cursive, however a team of Graphologists have been working on this issue and a few days back we got to know that the state has given permission to use cursive and not ban its use. However most states don't require children to learn cursive writing anymore. Some 46 states have adopted the Common Core Standards, a set of educational guidelines that do not require cursive writing as part of a school's curriculum. My fellow Graphologists have created a Campaign for Cursive blog and you can find the entire information from there.
Just imagine if schools stop teaching cursive in school then we would have adults who would write like children, like these samples below which are of the famous teen stars Miley Cyrus ,Justin Bieber and Selena Gomaz'z letters to their younger selves.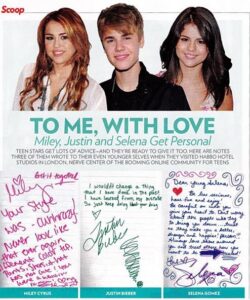 Our handwriting is like a pictorial representation of what is going on in our mind, how we think, react and create. Miley and Justin's handwriting is just like that of primary grade children and most of it is in the print form Selena at least is writing cursive but with time even this might stop. Many of the people I have analyzed have said this one thing frequently, I don't write anymore or I use the computers all the time, where is writing involved and hence why to learn it, similarly the schools feel why teach cursive when ultimately you will have to use the keyboard? Well the answer to that has already being given in my previous blog as to how the brain show more activity while using the pen than the keyboard.
Writing in cursive has the advantage that you will use all the three zones in the handwriting which are the upper zone, middle zone and lower zones which indicate the thinking and intelligence, present day to day life and physical activity respectively. When you print you tend to ignore the zones most of the times and the writing is stifled to the middle zone where you think of only the moment and nothing else, which leads to many other problems for you.
In an article compiled by Katie hatter (CNN) has given the following information from various specialists of the filed.
"Without it [cursive handwriting] you lose the sense of having your thought process through your hand movements to create your language and thoughts to someone else," says Michael Sull, a master penman in Spencerian script; past president of the International Association of Master Penmen, Engrossers and Teachers of Handwriting; and author of four books on handwriting including, "American Cursive Handwriting," which was released last month.
"There is a great loss in the progress that could be made with children fostering their motor skill development, literacy training and concepts of communication."
Sloppiness makes the reader think the writer's ideas aren't any good, studies show. "If you have sloppy handwriting, people make [negative] judgments about the quality of your ideas," says Steven Graham, professor of education at Vanderbilt University.
And poor handwriting slows down the writer. If you write slowly, your hand may not be able to keep up with your mind's attempt to have a thought, form it into a sentence and remember it long enough to write it down. "Until you can do this skill quickly and without thinking, it will interfere with your output," says Graham. "You better learn to write."
In this day and age where computer is a necessity, learn all that it takes to become technology savvy, but why lose the most beautiful and easy way of reaching your mind, which is through your own handwriting. Your handwriting talks to you everyday, listen to what it says and your life will never be the same again.
To learn Grapho therapy contact me on faridahbharmal@gmail.com