The most talked about and modern day fairy tale romance is between Prince William and Kate Middileton who recently wed on April 29th 2011.
Prince William was born on June 21, 1982 at, west London, he is the elder son of heir-to-the-throne Prince Charles and the late Princess Diana and second in line to the throne. William met Kate Middleton at St Andrews University in Scotland, and soon fell in love, they even had a breakup , but eventually got back together .  the handwritings of both Kate and William tell us what kind of people they are and how their relationship will progress. I have also included the Late Lady Diana's handwriting for clarity sake.

Prince William's handwriting tells us that he is a person who is not very expressive with words, but his love will be shown in his actions. He has emotions, but will not be able to express them. He is a very controlled individual and also very private as well.  He has a high self esteem indicating high goals from his life and ability to achieve them.  His writing shows that he has leadership qualities and honesty. In comparison Kate's writing is more rightward and is much more emotionally expressive than William. She will be great with people and they will be able to approach her which Is a major advantage for her. They both have carried themselves in media and before the world beautifully, they are young, but intelligent as well. Kate's writing shows that she likes to be treated with respect and William has a mind of his own and won't hesitate to express his thoughts even if they are different from that of the group. Both of them have very different personalities, but then opposites do attract and God will , will have a happy and fulfilling relationship.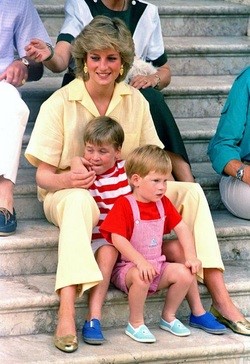 The late Lady Diana's handwriting has been included to allow my readers to have clarity as to how one person's handwriting can show their inner self and how its immense power can transform lives. Because no two handwritings are alike, just as no two people are alike, every handwriting is as unique as a fingerprint.Handwriting is the psychological imprint of an individual. Diana's writing is very rounded and very much in the middle zone. The middle zone of a person  shows that she is sweet and undemanding. She was someone who lived in her today, that is she did everything at the spur of the moment. She is one of those people who had trouble making up their mind. Usually people like these have an inability to overview themselves and critique their behavior, they are prone to exaggeration.
In comparison to all the three writings Kate's has proper three zones showing her writing, which is sometimes missing even in Prince Williams writing. No wonder after 10 years of being in a relationship and even a break up in the middle, the girl kept a level head on her shoulder and never spoke one work against the Royal family or her relationship  with William or ever complained it to anyone. William has chosen a good life partner, there will be ups and downs , but patience and Love above all will conquer all Kingdoms.