Pretty Zinta is a bubbly bollywood actress who we used to see in the munch ad's and has worked with the who's who of the industry.
Her handwriting tells us that she is a person who has emotions and feelings but not be taken in by them easily. One must appeal to her sense of logic and judgment because this is how this writer makes her decisions. Her garland like strokes tells us that she is a friendly, sociable, flexible person. She is ready to establish links with others and can communicate easily. She would have no problem in working with others. The simplicity in her writing tells us that she is a straightforward person and you should ask for her opinion only if you truly want it, as she will not lose time in coming directly to the point and want people she communicates with to do the same. In short she does not like to beat around the bush or be slowed down.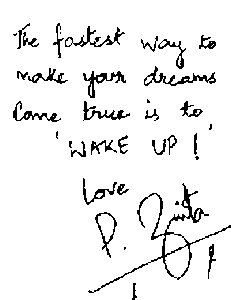 Our pretty lady will analyze everything. She has a strong reasoning ability to sift and way the facts. For eg. For every problem she will have thought of plan "A" and plan"B". She is a lady who has her own ideas and they may or may not match with that of the group, these thoughts would be important for her.
The underline underneath her signature tells us that she has leadership qualities and the ability to keep a level head on her shoulders in case of any emergency. Pretty's signature tells us that she has a healthy self esteem and also that her family are very important for her. This bubbly actress will listen to you only if she wants to do so, for she has the ability to completely tune you out in case she finds you uninteresting.
Very consistent writing, ability to think and act quickly and efficiently. A person who is sure of herself and what she wants.