As written in Wikipedia, commonly known as MF, was an eminent Indian painter. He is widely regarded as the "Picasso of India" and influenced a whole generation of artists in the country. Husain was associated with Indian modernism in the 1940s. A dashing, highly eccentric figure who dressed in impeccably tailored suits, he went barefoot and brandished an extra-long paintbrush as a slim cane. He never maintained a studio but he spread his canvases out on the floor of whatever hotel room he happened to be staying in and paying for damages when he checked out. He created four museums to showcase his work and had a collection of classic sports cars.
Husain was mainly a self-taught artist. He made ends meet in his initial days by painting cinema hoardings in Mumbai, paid barely four or six annas per square foot. A series of cases were brought against Husain and a court case related to the alleged obscene depiction of Hindu goddesses in his paintings resulted in issuing a non-bailable warrant against him after he failed to respond to the summons. There were also reported death threats. For the last years of his life he lived in Dubai and London, staying away from India, but expressing a strong desire to return, despite fears of arrest.
There was a series of protests on M F Hussain, some with him and some against. The basic matter was that he portrayed the Hindu Gods and Goddesses Naked whereas his mother and daughter and other Islamic deities fully clothed. why did he do that? what was in his mind? was he partial to one side or simply painting whatever it that he felt like? His handwriting will give us a clue as to whether he did things without any thought and impulsively or whether his way of looking was mushy.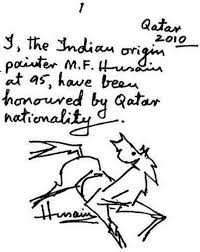 As you can see the writing, it is written in 2010, making him 94 years of age. The clarity in the writing of a 95-year-old man should be noticed! The man was a legend, the greatest Indian Painter of our times and whether his drawings were liked or not, nothing stopped him till his last breath. He continued doing what he loved best, Painting. Was he impulsive? No not at all, in fact the man was very independent and self-controlled. he ruled with his head and every decision was based on facts. He had an uncanny ability to remain calm under pressure. his persistence and high self-esteem have helped him stay in the topmost position to this day.
His bold and well-connected writing along with the drawing of the horse shows his fluidity in doing any job. No doubt he was ahead ruled person, but his decisions were taken based on information provided from other sources. He was agile and sharp in mind even in his last days.  The drawings that he is known for, tell us how organized his brain was. He was meticulous, efficient, and purposeful. the drawing of the horse shows that he is looking backward yet moving forward. He always wanted to return to India. Husain, who left India stating that "matters are so legally complicated that I have been advised not to return home", had living abroad self-exile since 2006. He had expressed a strong desire to come back, despite fears that he may be arrested in connection with the cases against him.
His writing also showed the presence of Phallic Symbols, meaning a person who is obsessed with sex and has vivid erotic fantasies. Such writers attain sexual pleasure when indulging in extremely unconventional practices.
I hope that you have enjoyed reading my post as much as I have enjoyed writing it.