Did you know? Writing is a therapy in itself.
Hello You!
Did you know? Writing is a therapy in itself.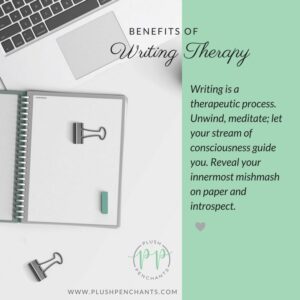 Writing blogs and making them interesting is one thing I aim for. Writing helps me clear my mind and jotting down ideas help me in analyzing which path is clearer.
Soon, I am conducting a session on "Handwriting Analysis and Grapho Therapy" which will help you understand the subject in a better manner. You can register for the same HERE.
In this day and age of technology; communication has become so easy. Wherein, writing is a communication that one does to know one's thoughts. Find out how you can communicate effectively with the outside world through Plush Penchants.
I researched more deeply, and am glad to find some solutions for it through the medium of Handwriting Analysis of Maria Savai, the founder of Plush Penchants.
Plush Penchants provides writing services to companies, start-ups, entrepreneurs,
bloggers, and businesses.
The company is still in its inception phase but is growing
profitably as more and more people are responding to valuable, effective, and curated
content.
The agency provides free content and business consultation too; not limiting
clients to pick services on the table, but also à la carte.
I first saw Maria's post of "Tricous" (a chocolate brand based in Nagpur, Maharashtra) on Instagram. I saw how best social media marketing strategies can work upon to promote the goodness of a business, in this case – Chocolates.
I got interested in the way she works, her writing style and the website which is a must visit www.plushpenchants.com; Idecided to do a feature on her.I conversed with her through the month of January and since, I've been sending most of my work to her. She is been giving amazing suggestions that helped me better my blog.
I recommend, if you have a website or blog or you are an entrepreneur, consider consulting Plush Penchants and finding out more about your company's strengths,weaknesses, errors, and personality. I am adding a gallery of images which she has made for my website.
Handwriting Analysis is as good as having a SWOT analysis, it helps in building your strengths, recognizing your weaknesses, and working through them; you understand the opportunities coming your way and calculate the threats you face.
Maria's Handwriting Analysis:
Maria's writing tells us that she is a person who has emotions, but what to express, to whom and in what way, is in her hands. She will look for facts before coming to a conclusion.
Maria's writing tells me that she has high goals,sometimes wonders how it should be done,however, has the capacity to bounce back and stay focused. She would plan up what she wants to get done and works for it, however,there are moments when she would contemplate on them too.
We all feel bad if someone were to criticize us,she would feel bad if someone were to look down upon her thoughts and philosophies or comment on her personal nature. Her imagination will tend to revolve around those things which were spoken before she consciously kicks them out of her mind.
Her writing indicates that she is able to work well with people, they would see her as a warm, caring person. Her love to connect with people from all walks of life makes it easy for her to pursue her passion for Content writing, by helping people work on their dreams
and present it in a strategized manner.
If asked a question, she would reply honestly, however, what to reveal and to whom would
rest in her hands.
Maria's writing tells us that she will want to finish the task as soon as possible, due to this
sometimes she may sometimes face issues after taking a decision, because she could
have reacted too fast, and there would have been a possibility that the matter could have
been handled in a different manner.
Our signature is the badge of the world and it indicates how we want people to look at us. In fact, I have some amazing signatures which showcase the person's passion and some interesting signatures which you can check out in the gallery below taken from various sites to give you an idea about the subject.
Maria's Signature indicates that she wants people to know her and is capable of accepting responsibility for whatever she says and does. I also see in her writing that she wants to look at life in an optimistic manner, tomorrow will be better than today.
Having a content writing strategy for your business is a must in this day and age. Knowing your audience, connecting with them, understanding their needs and understanding how best you can fulfill them helps you take your business to the next level.
What Does Your Signature Say About You ? Find Out By Getting it Analyzed HERE
You to can avail Plush Penchants Services by contacting them, their details are below:
Website: https://plushpenchants.com
Email: hello@plushpenchants.com
Call: +918600137714
WhatsApp: +918600137714
Instagram: @plushpenchants
Facebook: @plushwriters
(Residents of Nagpur can find their address on Google Maps too)